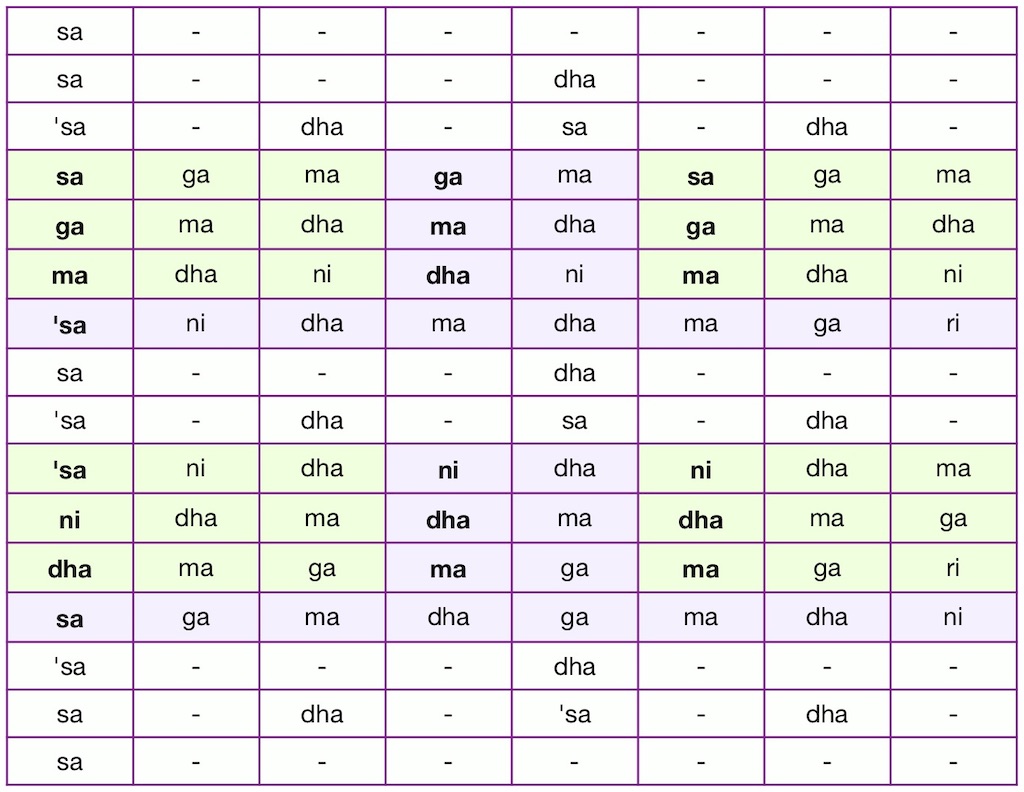 Become fluent with the help of svara syllables (solmisation): practice a series of exercises, each based on a set of melodic figures that lend themselves to frequent repetition ("getting into flow") | Practice goal, choosing your vocal range & more tips >>
South Indian conventions (raga names & svara notation): karnATik.com | Guide >>
raagam: vasantA 17 sUryakAntam janya
Aa: S M1 G3 M1 D2 N3 S | Av: S N3 D2 M1 G3 R1 S
Listen to Uma Ramasubramaniam demonstrating the svaras (notes) for the present raga(s) on Raga Surabhi >>
Having but 6 notes (instead of 7), this type of raga pattern is traditionally classified as being "derived" (janya) from a melakarta raga. Text books refer to any raga limited to 6 notes as shadava raga. More specifically, raga Vasanta is an audava-shadava raga which means it has 5 notes in ascending, and 6 in descending melody patterns.
The most characteristic feature in the above svara pattern is the absence of the fifth note (pa) – the very note that conveys a sense of balance in most other ragas.
More about the above person(s) and topics
Periodicals and sites included | More resources | Disclaimer >>
Please note that the above figures lend themselves to several "Carnatic sister ragas".