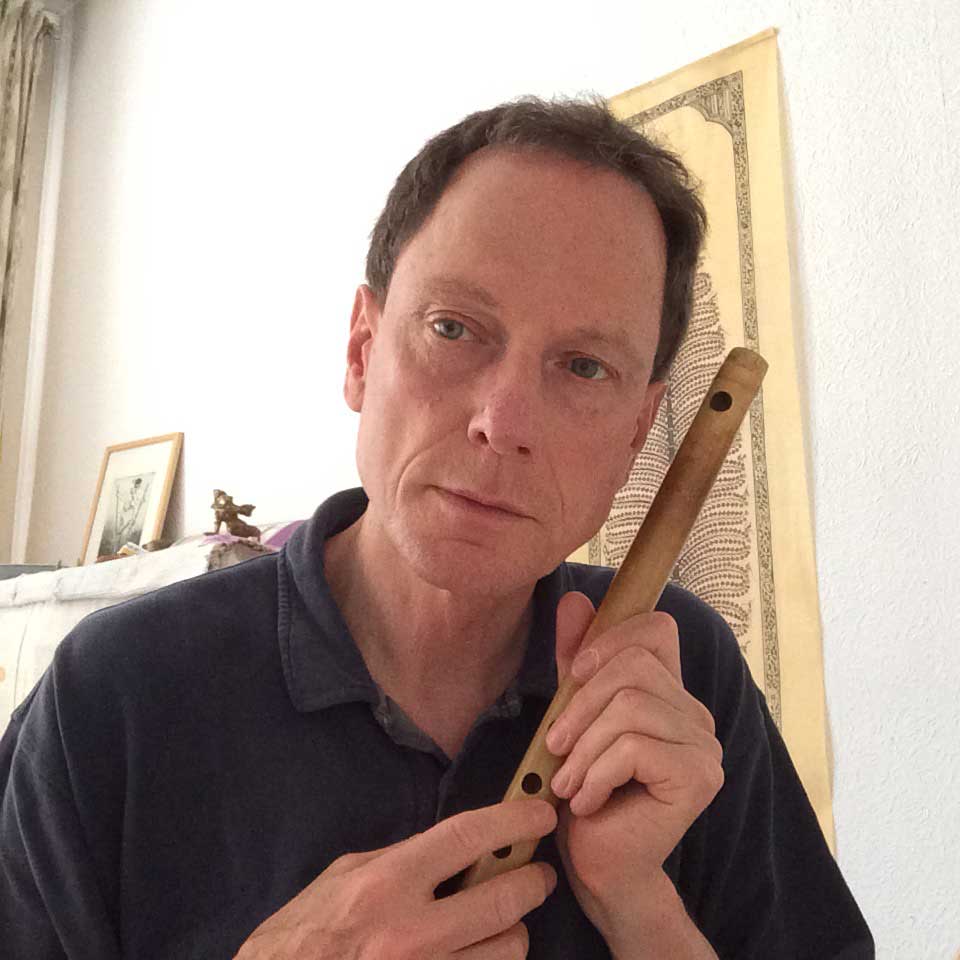 Ludwig Pesch (1955) is a German-born musicologist, educator and musician. Interested in "other" ways of teaching and sharing music, he completed his Diploma Course in Carnatic Music (First Class) at Kalakshetra after serving as church organist and studying music and musicology in Freiburg (Germany).
He specialized in playing the bamboo flute under the guidance of Ramachandra Shastry (1906-92) – musical heir to the traditions of Sri Tyagaraja and Sarabha Sastrigal and adherent of the personalized gurukula system of teaching – with whom he performed on many occasions.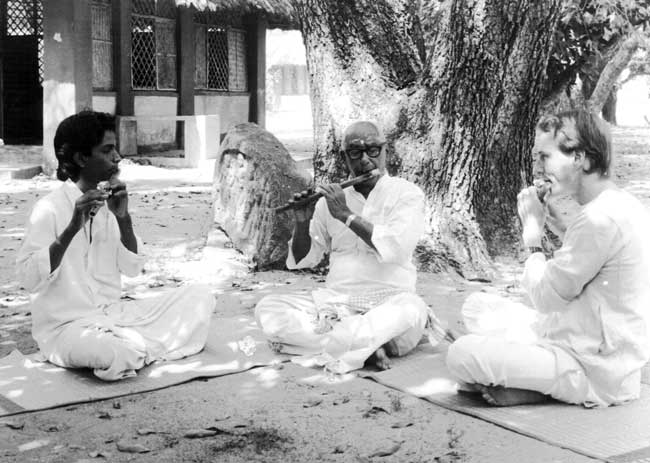 Since his training at Kalakshetra in Chennai he is based in Amsterdam. Guided by several authorities on Carnatic music, notably Vidya Shankar and S Rajam (both 1919-2010), he authored The Oxford Illustrated Companion to South Indian Classical Music to which TR Sundaresan (1963) contributed the intricacies of Carnatic rhythm and tala theory.
The courses offered on carnaticstudent.org were originally commissioned in 2001 by the distance education department of Lueneburg University (Germany), as part of its e-learning programme. These courses were soon acclaimed as "a fantastic resource … inspirational"; other participants liked it for being "great fun for those of us who have not taken lessons in Karnatic music"; an Indian student's unsolicited testimonial reads: "As someone who did not have an opportunity to learn the rudiments of Carnatic music, I highly value this course."

Teaching experience and music pedagogy
While collaborating with performers in other disciplines he taught – as visiting lecturer – at several conservatories, teacher training programmes and the departments of Indology and Musicology at Wuerzburg and Goettingen Universities (Germany).
In 2006-7 Ludwig Pesch taught at the Bern University of the Arts Switzerland based on a HKB research project titled "Sam, Reflection, Gathering Together!" (www.sam.mimemo.net) and as part of the 2007 "Musik und Mensch" colloquium series of the Pädagogische Hochschule FHNW initated by Prof. Markus Cslovjecsek in Switzerland.
A chapter, titled "Thinking and learning in South Indian Music" by Ludwig Pesch has been published in: Cslovjecsek, M., & Zulauf, M. (Eds.). Integrated music education: Challenges of teaching and teacher training.
Collaborative work – anywhere, any time!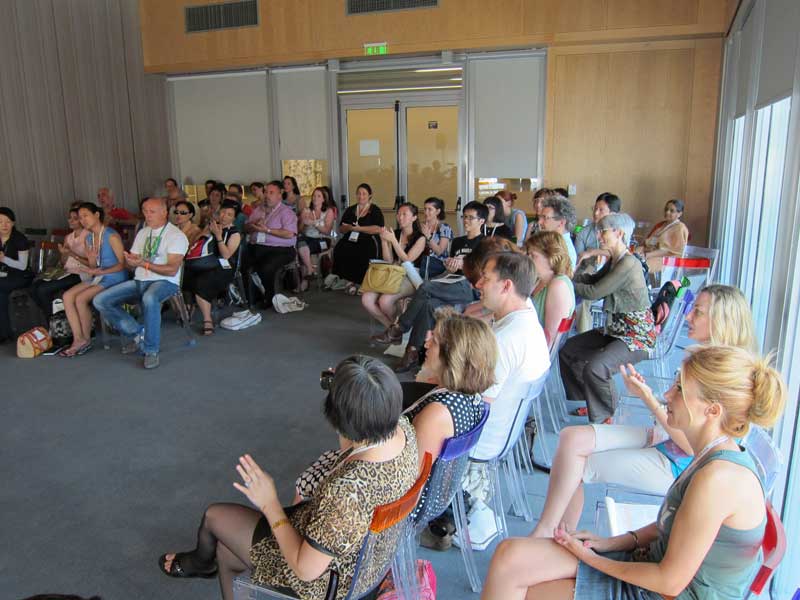 His vision of creative work with fellow musicians and educators are summarized by the acronym AIUME, which stands for Adapting Indian Universals in Music Education: an ongoing exploration of the intrinsic qualities of South India's "classical" (Carnatic) with unlimited room for ideas, different media, thereby fostering creativity just as spontaneous collaboration in informal settings – just about anywhere, any time!
Publications
His articles, presentations and workshops include contributions to the world conferences of the International Society for Music Education (ISME), music festivals and museum exhibitions.
Exhibitions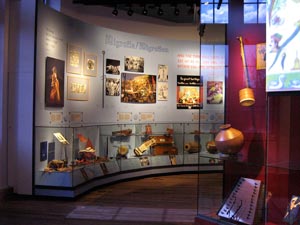 In collaboration with the Royal Tropical Museum Amsterdam and Architectenbureau Jowa (www.jowa.nl) he researched and developed a semi-permanent exhibition highlighting the inspiration derived from India in the West, and aspects of migration from India that are relevant for Dutch society. – View the slideshow >>
He contributed site-specific educational programmes, media content, research and catalogue texts to exhibitions in other museums in India and Europe, including the National Museum (New Delhi) and Museum Rietberg (Zurich).
Awards
An active participant in Europe's dialogue with India, Ludwig Pesch received the Rabindranath Tagore Cultural Award (Kulturpreis) of the Indo-German Society (DIG) "in recognition of his outstanding contribution to the spread of knowledge about India's spirit and life": Laudatio by Dr. Friedemann Schlender (in German). For his outstanding contribution to cultural relations with India" he was presented with the Cross of the Order of Merit, conferred by the President of the Federal Republic of Germany in 2000.
Research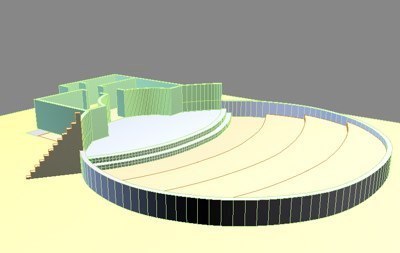 He initiated and guided an architectural research project in conjunction with two renowned institutions, the Indian Institute of Technology (IIT) and the Indian National Trust for Art and Cultural Heritage (INTACH); and the resulting design was realized by the Tamil Nadu Government: an experimental performance space popularly known as Sittrarangam (The Small Theatre Madras) in which hundreds of artists and educators interacted with audiences and learners for many years. (More information is found under "Small theatre" on www.natyasala.mimemo.net.)
Press
His music has been described as "an eloquent demonstration of the universal fact that music transcendents cultural and linguistic barriers" (Indian Express); "captivating and chaste rendition … a golden link with the West." (Another Garland: A Biographical Dictionary of Carnatic Composers and Musicians; Chennai, 1993). "Pesch created melodies that reached one's heart" (Eindhovens Dagblad, The Netherlands)
The realisation of the sheer beauty of unadulterated sound will open many more doors also for Carnatic music. … Not surprising the Amsterdam-based Pesch is a known musicologist today, with a number of publications to his credit. Perhaps that is why Oxford University Press thought it fit to ask him, rather than an Indian scholar, to pen "The Oxford Illustrated Companion to South Indian Classical Music" … Pesch is certainly a teacher at heart. But his teaching is not only for the specialised or the academics.
Excerpt from Harmony! (interview on Carnatic Music and art education) by Anjana Rajan in The Hindu (Friday Review, November 13, 2009)
"Talking of passion, I have always wondered at people from different countries and cultures drawn to the Indian art scene, often making them delve deeper than we do. Certainly, all those years ago, looking at Ludwig Pesch sitting under a tree in Kalakshetra, trying to grasp what flautist H.Ramachandra Sastri taught in his old world style, I could have never imagined he would launch an archival institution like Sampradaya in Madras. Or that this German scholar would produce one of the most useful books on Carnatic music (The Illustrated Companion to South Indian Classical Music, Oxford University Press)."
Gowri Ramnarayan,Where custom endures despite change
The Hindu (Metro Plus), Thursday, Dec 20, 2001