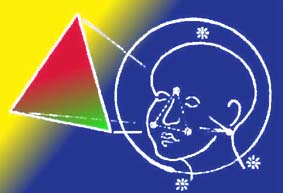 Whether you learn singing, practice a melody instrument or seek a better understanding of your favourite music – it's the proverbial saptasvara "seven notes" that provide the key to the Unity in Diversity that sets Carnatic music apart:1
sa ri ga ma pa dha ni
One point to remember in the present context is that musicians are free to choose any pitch as basic "sa" (ādhāra sadja) to which they adhere throughout a practice session or concert.2
Another important point to remember: experienced musicians render certain notes in a plain fashion (easily identified as "pitch") while others are embellished to the extent of blending into one another (no longer heard as "pitch" as in Western music)3.
Depending on the raga practiced, all the seven notes may be sung or played (as in Mayamalavagaula, usually the first raga taught to learners) whereas one or two may be avoided altogether in another raga, for instance in the popular ragas Sriranjani, Mohana and Hamsadhvani which figure among the present "Flow"-series of exercises.4
Practicing these notes in multiple ways5 enables you to become a discerning listener (rasika) capable of appreciating a unique raga rendition by a particular vocalist or instrumentalist.6
For centuries teachers, composers and dance masters have relied on the articulation and notation of musical notes in ways that kindle creativity and cultivate memory while attuning themselves with a particular occasion, season or time of the day.7
The ability to identify these notes and render them with feeling (bhava) is as indispensable for daily practice as it is useful for cultivating memory in such a way that it lends itself to become part of one's daily routine: brief practice sessions to be enjoyed anywhere, any time – whenever you may spare a few minutes for something special, music embodied beyond distraction.
So let's get into the flow and appreciate the fact that today, Carnatic Music Matters More Than Ever; and also appreciate the above mentioned nuances, to begin with by listening attentively to Sreevidhya Chandramouli who recorded the famous gitam (didactic song) in raga Malahari by Purandara Dasa for the benefit of all learners.
Time for some practice with scope for self-expression and adaptation8
Practice goal and some tips: become fluent in the use of svara syllables; here arranged as tiny melodic figures for frequent repetition; to begin with, each note should be articulated clearly and with feeling while paying attention to slow, gentle yet deep breathing (without need for measuring or "keeping tala").
This may be followed by practice based on Adi tala: 1 syllable per count as seen in each exercise, eventually doubled and quadrupled to 2 and 4 syllables per count as in a traditional course of Carnatic music (abhyasa ganam). To make your practice even more effective and enjoyable, listen and pay attention to the way an experienced performer connects and embellishes the notes associated with the raga you have chosen to practice.
Please note
The exercises presented here are inspired by those found in the standard syllabus (abhyasa ganam) attributed to 16th c. composer Purandara Dasa. Just as traditional exercises for beginners, the present ones cover a vocal range not exceeding the proverbial "seven notes" (saptasvara), likewise rounded up by one extra note – the basic note sa (sadja), now sung an octave above the starting note:
sa ri ga ma pa dha ni 'sa
sa = middle octave (madhya sthayi), 'sa = higher octave (tara sthayi)
whereby one or several notes may be omitted
in a given "derived" (janya) raga based on
5 or 6 notes, some combining 5 or 6 notes with 7 notes
(i.e. in the basic ascending or descending scale pattern)
Vocal range
Keeping the present series of exercises within one octave makes it easy to include female and male vocal learners in a single session.9
Another advantage for both, beginners and advanced learners, is that a limited range enables them to focus on continuity and expression. This reduces the risk of straining one's voice even during longer practice sessions.10
An important feature of classical South Indian music is its reliance on memory. Today as in the distant past, memory is being trained with the help of vocal practice rather than resorting to detailed notation. This preference applies to singers and instrumentalists alike.11 This pragmatic approach perfectly suits a repertoire that provides ample scope for improvised interludes in virtually any type of composition, be it in regular concerts12 or arrangements performed for dance recitals, drama and film music.
"Students who get into flow as they study do better"13
Such concentration and immersion is the key to getting into flow: "A bedrock of flow is feeling completely absorbed by an activity, and that often requires a state of deep concentration."14 For this it's worth remembering that patience is the secret for success in any practice worth the effort!
For details on the classical music of South India (including staff notation for ragas covered in the Flow series), see the present author's critically acclaimed reference work: The Oxford Illustrated Companion to South Indian Classical Music >>
References