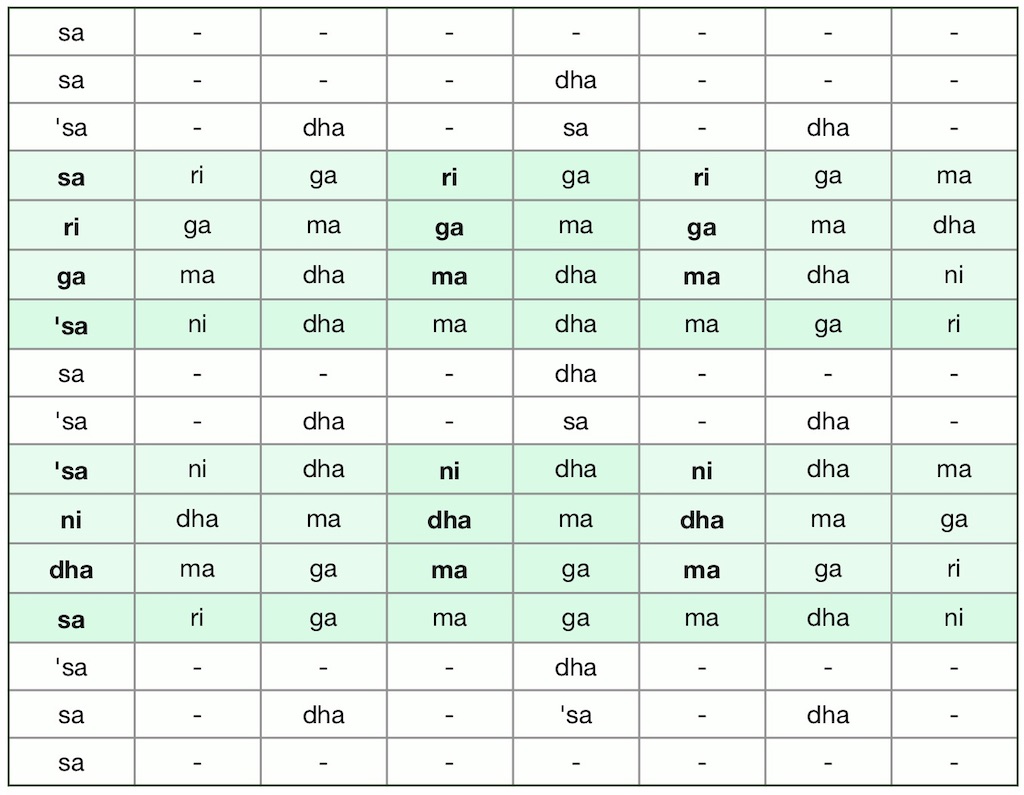 Listen to Uma Ramasubramaniam demonstrating the svaras (notes) for the present raga(s) on Raga Surabhi >>
Become fluent with the help of svara syllables (solmisation): practice a series of exercises, each based on a set of melodic figures that lend themselves to frequent repetition ("getting into flow") | Practice goal, choosing your vocal range & more tips >>
South Indian conventions (raga names & svara notation): karnATik.com | Guide >>
raagam: hamsAnandi
Aa: S R1 G3 M2 D2 N3 S | Av: S N3 D2 M2 G3 R1 S
raagam: shrIranjani
Aa: S R2 G2 M1 D2 N2 S | Av: S N2 D2 M1 G2 R2 S
Having but 6 notes (instead of 7), this type of raga pattern is traditionally classified as being "derived" (janya) from a melakarta raga. More specifically, text books refer to any raga limited to 6 notes as shadava raga.
The most characteristic feature in the above svara pattern is the absence of the fifth note (pa) – the very note that conveys a sense of balance in most other ragas. It may be sung, hummed or practiced silently with any sadava–sadava raga you are already familiar with (e.g. Sriranjani and Hamsanandi).
Once internalized you may want to contemplate and remember the same exercise with the help of the "8 x 8 beads" pattern shared here>>
Listen to a brief excerpt of a sloka in raga Hamsanandi sung by Aruna Sairam (Padam le chant de Tanjore, Ocora, Radio France, 1999)
More about the above person(s) and topics
Periodicals and sites included | More resources | Disclaimer >>
Please note that the above figures lend themselves to several "Carnatic sister ragas".
So try and follow the same exercise with the proper notes associated with these janya ragas (carefully avoiding the 5th note, pa):
Bhavani (derived from the 44th melakarta raga, Bhavapriya)
Hamsanandi (derived from the 53th melakarta raga, Gamanasrama)
Lalita (derived from the 15th melakarta raga, Mayamalavagaula, for some composers from the 17th melakarta raga, Suryakanta)
Ravicandrika (derived from the 28th melakarta raga, Harikambhoji, and in compositions distinguished by the vakra "zigzag" pattern ni-dha-'sa heard in the ascending series)
Sriranjani (derived from the 22nd melakarta raga, Kharaharapriya)
Suddha Todi (derived from the 8th melakarta raga, Hanumatodi)