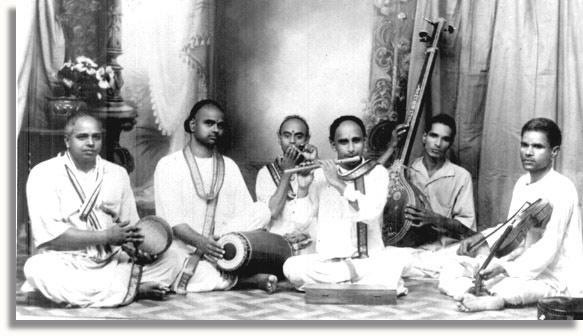 H. Ramachandra Shastry (1906-1992), a disciple of Palladam Sanjeeva Rao1. From 1977 to 1992 he taught several flute students at Kalakshetra including the present author.
OF BAMBOO AND MAGIC – A FLAUTIST AT EIGHTY*
by Ludwig Pesch
Sri H. Ramachandra Shastry, seniormost Carnatic musician and teacher at the international centre of arts, Kalakshetra, at Madras, completes his 80th year. Born on November 18, 1906, in Govindapuram village (Tanjavur district, Tamil Nadu) into a family of Vedic scholars, he grew up in a world where musicians were few, were sought after, and performed an average of five hours per concert.2
Today, musicians are many, audiences few and too impatient even to listen for two hours at a stretch.3 Working six hours per day as a teacher, playing the flute most of the time along with the students ranging from beginners to postgraduates with performing experience, giving advice whenever colleagues ask, Sri Shastry enjoys being a musician in the thatched cottage of sylvan Kalakshetra just as during festival performances in which he still participates all over South India.
Having performed well over half a century in the company of legendary musicians of a different age, Sri Shastry is not given to looking back. Music for him is too positive a force to be over-shadowed by the ghosts of memories that can neither turn back the clock nor transform a world plagued by worries of a kind unimaginable just a few years ago.
Sri Shastry is not given to many words in his teaching, where music and nothing but music prevails, nor in his private life best described as that of a happy family. If asked, he will remember in detail the marvel of the first introduction of broadcasting in India, to which he was an enthusiastic contributor then, and even today. He remembers his meeting with the British Viceroy and his wife who took genuine interest in his flute-playing. He remembers his early years of studying and performing with his famous guru, Palladam Sanjiva Rao, as if it were today.
After retirement from Tirupati Music College, where he taught for many years, it was Srimati Rukmini Devi Arundale, the late founder-director of Kalakshetra, who decided that this rare and authentic style of flute-playing, not fashionable with other exponents of our day, should be imparted to a new generation of musicians, both Indian and foreign, and thus be preserved for posterity as a living art. If less than a decade later, her dream has come true beyond expectation, it is the result of enthusiastic and uncompromising work which owes much to the congenial and serene environment of the famous centre of traditional arts, Kalakshetra. Here artists are given freedom to conduct their classes in a manner which comes closest to the ancient Indian ideal of informal, but intensive teaching called gurukula or gurukulavāsam.4
Sri Shastry is indeed one of the few living musicians who truly represent the gurukula system having undergone this form of training themselves and being inclined to practice it as teachers rather than losing many words about it.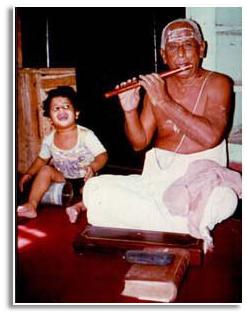 Being eighty and as active, healthy and optimistic as an artist can be, this awe-inspiring musician must harbour a secret an average world citizen would want to share. Is it explained by a lifestyle characterized by vegetarianism, little sleep, abstinence from any excess or undesirable habit, the long walks to and from work, the regular fasting days, hours of vigorous breath control incidental to playing the flute … ? The fact is that these outward features have become so much a way of life that it would even be hard for Sri Shastry to attribute his harmonious yet austere existence to such profane factors alone.
Apart from meticulous adherence to the religious duties prescribed for an orthodox Brahmin for every aspect and time of his life, there remains another subtle facet to the secret of a fulfilled life which has to do with the magic that has always and the world over been associated with the flute. An inconspicuous piece of bamboo, the short Carnatic flute is free from any additional features or mechanisms. It is, indeed, so small that it comes as close to a noninstrument as any musical instrument can possibly be, controlled entirely by breath, lips, and nearly invisible finger-movements even for the most dazzling passages, yet it is capable of sounds both majestic and mellow, a voice that reaches into the depths of mankind's collective memories that no word, spoken or sung, can hope to stir. Most other contemporary flutists have chosen to merge with the mainstream where arts are used as elegant attributes to a morbid civilized lifestyle, largely dwelling on short-lived thrills and effects, yet tied down to melancholy and infinite longings never fulfilled in an indifferent world.
Sri Ramachandra Shastry commands an inexhaustible source of delight, manifested through musical sound as vigorous as invigorating. His music is characterized by steadiness of pace, a sense of proportion, balance and depth which is contagious for fellow musicians and listeners alike. This bamboo flute opens a truly magic world where life is experienced as positive and meaningful, devotion as colorful and compassionate as the daily puja of the orthodox Hindu. Here life's needs are few, and every day is fulfilled anew with duties and joy in equal measure. Greatness and human dignity encompass even down-to-earth realities of everyday life.
May Sri Ramachandra Shastry remain as young as he is now at eighty and share the boundless musical treasure of his flute-play for many years to come!*
* Postscript (December 1999)
Sri Ramachandra Shastry indeed lived another eventful six years after this article was published by Joseph E. Ross in the ILKF Newsletter (Fall issue 1986).
Almost until to the end of his life, this revered teacher was fortunate to be able to teach at Kalakshetra, and occasionally to perform in public and for All India Radio.
Just as his colleagues at Kalakshetra and even their students, his immediate students, who are now scattered across India and Europe, remember him fondly as if they had been members of his family. Seen from his perspective, however, this statement just wouldn't do! Considering our special releationship with this traditional master in the light of the Indian concept known as gurukulavasam, we were indeed part of his family.
Like a genuine teacher or preceptor in the remote past – as against a paid private tutor or college lecturer of our day – he treated all of us, irrespective of age, or background or caste, like his own family members, with even more consideration than words like affection and respect can convey.
In all sincerity – of how many persons known to us could we say the same? Not only in his approach to music, but also in making us seek to emulate his personal example as a wonderful human being, he continues to be our teacher, beyond death, that is: for life!
Updated: 24 April 2022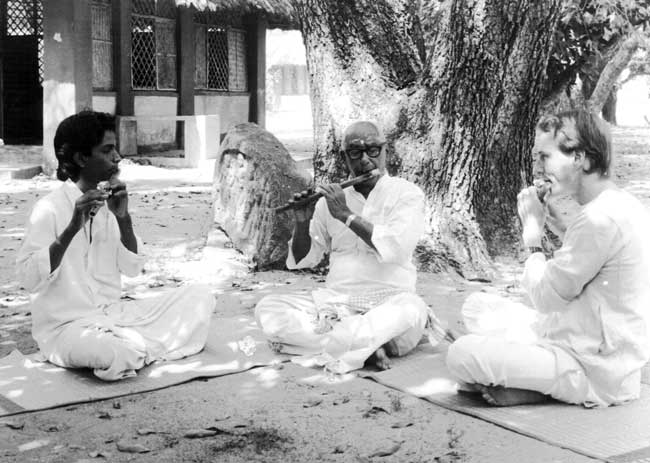 For details on the classical music of South India (including staff notation for ragas covered in the Flow series), see the present author's critically acclaimed reference work: The Oxford Illustrated Companion to South Indian Classical Music >>
Information about the persons, items or topics
Learn & practice more
More about the above person(s) and topics
Periodicals and sites included | More resources | Disclaimer >>
Learn & practice more
References