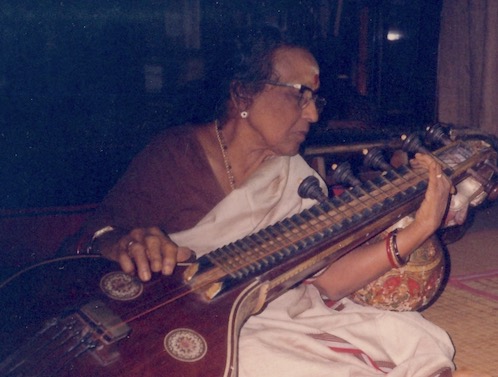 Vainika, vocalist, musicologist annd teacher Vidya Shankar (1919-2010) was taught by Sabhesa Iyer, Sabhapathi Iyer, Syama Sastry (descendant of the composer), and T.L. Venkatarama Iyer.
Vidya Shankar founded Parampara (Association for the Preservation of Classical Carnatic Music) and authored many articles and several books:
Syama Sastry's Compositions with text, translation, svara and gamaka notation1
Saint Tyagaraja's Divya-Nama Keertanas
Aesthetic and Scientific Values in Carnatic Music (Vol. II): Lecture Demonstrations (1999-2004)
The Art and Science of Carnatic Music (The Music Academy Madras 1983)
Syama Sastry (a biography) and Aesthetic and Scientific Values in Carnatic Music: Lecture-Demonstrations by Vidya Shankar at the Annual Conferences of The Music Academy Madras 1946-1996
She presented numerous lecture-demonstrations in India (e.g. The Music Academy Madras) and abroad (Festival of India).
Her precise notation system for ornamentation (gamaka), one of the most difficult aspects of Carnatic music is widely acclaimed.
Among other interesting chapters, Aesthetic and Scientific Values in Carnatic Music contains a lucid summary of the 22 Sruti system (pp. 47-59, table on p. 58) with concluding remarks by Dr. N. Ramanathan (summarizing the confluence of several theories, pp. 60-61).
The following article on Vidya Shankar by writer Gowri Ramnarayan was published in The Hindu on July 21, 2006:
Maths and music went hand in hand
"Though I was very good in Mathematics, my father thought it was too strenuous a subject in college for a girl. He made me take up music instead," says Vidya Shankar. The veena artiste is over 80 today, but the disappointment still shows on her face. Belonging to a family of extraordinary achievers (uncle C.V.Raman and brother S. Chandrasekhar were Nobel laureates; brother Purasu Balakrishnan a writer), Vidya grew up among nine siblings, all taught by the parents at home until high school. Music was part of this schedule. […]

However, little Vidya got 12 years of training from the master. "He would sing, I'd follow on the veena. He had a scientific mind, he analysed ragas with confident precision." Once Musiri Subramania Iyer happened to be present in the class. The next day he brought a tambura for young Vidya's Begada.

Sabesa Iyer did not fail to arrange regular tuitions for the girl with Madras Sabapati Iyer. Musicologist T. L. Venkatrama Iyer too taught a few advanced learners in her home. The guru noted that the girl corrected on her veena even those phrases, which the voice sometimes sang imprecisely. "If you have doubts, ask Vidya!" he would say happily.
Source: The Hindu : Arts : Vainika Vidya Shankar no more
Address : https://www.thehindu.com/arts/article493460.ece
Date Visited: 13 April 2020
Tip
This website offers many resources for free (see menu for details): to learn more about the above mentioned composers and scholars, the places where they flourished; and about the musicians who tread in their footsteps today.

Enjoy your exploration of a wonderful music!
More about the above person(s) and topics
Periodicals and sites included | More resources | Disclaimer >>
Learn & practice more
References
Vidya Shankar developed a notation system to convey melodic intricacies not communicable through conventional (syllabic) notation; her pioneering work is duly acknowledged in a major chapter titled Embellishment (Gamaka) included in The Oxford Illustrated Companion to South Indian Classical Music.[↩]