Gudu Gudu makes wonderful listening, time and again. A rendition by Sreevidhya Chandramouli along with her husband and son as part of their ongoing KaraikudiVoyage.
This song encapsulates the healing power of music waiting to be brought into practice on a more regular base for being rooted in tradition at its very best.
Tips: 1. Search inside this file by first clicking on the (…) Ellipses icon; 2. click eBook title to access [ ] Toggle fullscreen; 3. to Read this book aloud, use the headphone icon.
NEW FORTUNE TELLER (PUDIYA KONANGI)*
by Mahakavi Bharati

Gudu gudu gudu gudu gudu gudu gudu gudu
Happy days ahead for the people!
Caste feelings are no more.
No more are there any conflicts.
Shakti ! Maha Kali! Speak up.
Predict good times for the people of Vedapura !

Poverty is gone.
Prosperity is in.
Knowledge is ushered in.
Sins have vanished in the thin air.
If the educated try to deceive
the simple men, they will be ruined in no time.

Commerce and industry are being learnt.
Workers flourish.
Shastras and skills are being learnt.
Fear is gone. Justice prevails.
The hour of awakening is come.
The magic of incantations is working all around us.
Source: Full text of "Poems Subramania Bharati" (National Council of Educational Research and Training, 1982), pp. 147-151 in the text version provided by Archive.org; and from p. 160 in the embedded version displayed above.
* The fortune teller is traditionally depicted as shaking a small hourglass-shaped drum called kudukuduppai in Tamil, and as damaru across India. Two beads attached to it by strings produce the characteristic rattling "kudu kudu" sound evoked in this poem as harbinger of a bright future for all.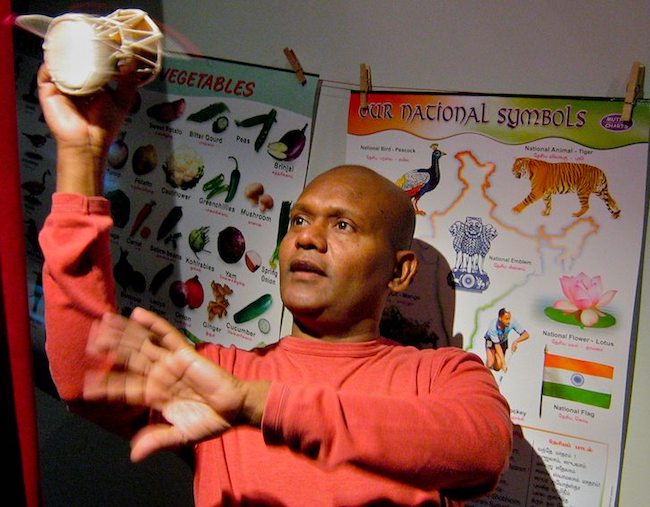 More about the poet Subramanya Bhaaratiyaar (1882-1921)
Bharati was determined to abolish the caste system in India. He selected an untouchable boy, to prove his principle of "equality" to the society.
Learn more from the Annotated Biography (with a National Historical Background) published by his granddaughter Dr. S. Vijaya Bharati >>
When Bharati's vision as a poet went to work upon the sober knowledge of national and world affairs derived from his journalistic labors, the result was compelling political poetry of a kind that is rarely found in twentieth-century literature – with, fittingly enough, Russian literature being a notable exception.
Mira T. Sundara Rajan in "Subramania Bharati — The Eternal Revolutionary" (The Hindu, 12 September 2017)
https://www.thehindu.com/news/national/subramania-bharati-the-eternal-revolutionary/article19670435.ece
(The author is a great-granddaughter of Mahakavi Bharati. She holds a DPhil from Oxford University, where her research involved the study of Russian law and history. A wealth of information about the poet may be found on his granddaughter's blog, https://subramaniabharati.com)
Subramanya Bharathiyar is a renowned poet from Southern India. … His poetry is known for its appeal to the liberty and strength of the people. … His national integration songs earned him the title "DEsiya Kavi" (National Poet). He composed Tamil keertanais on love, devotion, fearlessness, mysticism. | Learn more on karnatik.com >>
For background information on places like Karaikudi, Ettayapuram (the poet's birthplace) and Chennai (where he died), explore the musical map created for this course. | Tips for using the interactive Carnaticstudent-map >>
Technical support 
No Google Custom Search window or media contents visible on this page? Then try these steps: (1) switch from "Reader" to regular viewing; (2) in your browser's Security settings select "Enable JavaScript"; (3) check Google support for browsers and devices | More tips >>
Related post
"Sampradaya is like a broad river and the bani is a tributary": Umayalpuram Sivaraman on his 75 years of performance >>
Information about the persons, items or topics
Learn & practice more