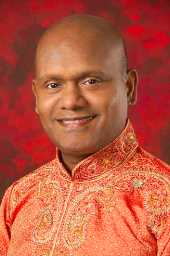 Manickam Yogeswaran is a singer and composer for whom continuity means that one's creativity transcends the Carnatic musical and poetic tradition he already mastered at a very early age. This is why he succeeds so well in putting his creative expression in the service of the international peace movement:
Yogeswaran's trio enabled an enthusiastic audience to discover the kind of songs beloved by Gandhi – review "Le festival s'ouvre sous le signe de la paix", Dernières Nouvelles d'Alsace (DNA France), 1 November 2017
He has travelled world over performing, recording and composing in a wide range of musical contexts including classical, contemporary, dance and film music.
Equally known as a gifted multi-instrumentalist, he is a regular guest on concert stages including the BBC Proms, Chennai's Music Season, Montreux to Rudolstadt, Glastonbury, the Big Village, WOMAD and the Berlin Sacred Music & Dance Festival.
These include the Dissidenten, the Jocelyn Pook Ensemble and the big voice band The Shout of which he is a member since the 1990s. He was the first Tamil vocalist to sing in a major Hollywood movie: Jocelyn Pook's soundtrack for Stanley Kubrick's Eyes Wide Shut (1999). His other movie soundtracks include Spike Lee's 25th Hour (2002) and Brick Lane (2007). His 2005 CD Peace for Paradise is a musical plea for peace in his homeland. In a more traditional context, he has set the ancient Thirukkural by Tamil saint-poet Thiruvalluvar to music in 133 ragas. He performed a song composed by Jocely Pook as a tribute to Queen Elizabeth II on the occasion of her Diamond Jubilee in June 2012.
Presently he serves the Global Music Academy in Berlin as Co-ordinator, South Asian Music.
More