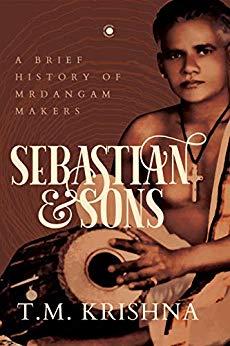 A much awaited book 'Sebastian and Sons' by TM Krishna on the evolution of the art of Mridangam making is going to be released on 2 February 2020. 'The making process is an intellectually, aesthetically and physically taxing one. From acquiring the skins for the circular membranes and straps to the wood for the drum, from curing the material to the final construction, and at the end of it all, making sure that it has the tone that the mrdangam player wants, mrdangam-making is also a highly nuanced operation at every stage.This requires a highly tuned ear and an ability to translate abstract ideas expressed by musicians into the corporeal reality of a mrdangam. Yet, their contribution to the art of the mrdangam is dismissed as labour and repair—when it is spoken of at all.
There are legendary mrdangam players, yes; there are also distinguished mrdangam makers, many of them from Dalit Christian communities, who remain on the fringes of the Karnatik community. Sebastian and Sons explores the world of these artists, their history, lore and lived experience to arrive at a more organic and holistic understanding of the music that the mrdangam makes'.
As a dedication to all major Mridangam makers of the past I dedicate Mridangam solos of three all-time masters, Pazhani Subramania Pillai, Palakkad Mani Iyer and Ramanathapuram C S Murugabhoopathy
1. Pazhani Subramania Pillai (1908-1962) : https://www.youtube.com/watch?v=8r2FafKt_X8
2. Palakkad Mani Iyer (1912-1981): https://www.youtube.com/watch?v=V9Zd8GjQ39w
3. Ramanathapuram CS Murugabhoopathy (1914-1998): https://www.youtube.com/watch?v=ZtFXE4aVMT8
Source: Courtesy S. Gopalakrishnan
Subscribe to the Another Listening newsletter for daily Carnatic music recommendations and more: anotherlistening@gmail.com
There is not only myth, but also vocabulary. "In Tamil, 'thol' means 'skin' and 'thattu' means 'plate'. Mridangam players will talk about thattu, but not about thol," Krishna said. "These were all ways of distancing."
Read "T.M. Krishna speaks about his new book, Sebastian and Sons at the Tata Steel Kolkata Literary Meet" (21 January 2020): https://www.telegraphindia.com/states/west-bengal/mridangam-the-cowhide-conundrum/cid/1739616
Book search (India)
Enter a book title, author's name or any subject of special interest in the above search field.
Note: if the Google Custom Search window isn't displayed on this page (on a tablet device and smartphone or any PC)
– "Enable JavaScript" in the "Security" settings of your internet browser
– Toggle to regular web view if you happen to use the "Reader" view