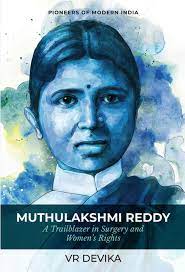 Muthulakshmi Reddy – A Trailblazer in Surgery and Women's Rights is the story of a pioneer path-creator for women. She was the first girl student in Maharaja's School for Boys in Pudukkottai, the first Indian woman surgeon from Madras Medical College, the first Indian member of the Women's Indian Association, the first woman member of legislature of Madras Presidency, the first woman deputy speaker and the first alderwoman.

In this book the author describes the indomitable spirit of a woman who campaigned to get rid of the practice of wet nurses, fought for girls' education and widow remarriage, equal property rights for women, education reform, and rural healthcare for women. She took up the case of getting the practice of dedicating young girls as Devadasis abolished.
"Muthulakshmi Reddy was a reformer from the inside, as it were like Dr Ambedkar was. Which is different from being like a corrector from the outside." – Gopalkrishna Gandhi
(Pioneers of Modern India series, www.niyogibooksindia.com, INR 299) 
Excerpts (pp. 13-14, & 17-18 and Ch. "The Devadasi Question", pp. 119-143)
Muthulakshmi was privileged as the daughter of this educated and liberal Brahmin man who gave her the much-desired access to formal learning. However, Muthulakshmi faced discrimination on account of being the daughter of Chandrammal, who belonged to the Melakkara community. The women of the community were trained in music and dance, and were permitted to perform in temple processions and rituals, and for the public on social occasions. Marriage in the conventional sense was barred for them according to religious rules, but they could be chosen by an upper caste male patron of means as a companion outside his own legal marriage. The children born in such relationships were not formally acknowledged by the fathers. Most members of the Melakkara community carried the name of the village or town they hailed from as identity, like Tirugokarnam Kanakambujam or Tiruvalaputtur Kalyani. […]
Muthulakshmi endured unkind remarks from boys who would stand at road corners as she walked to the Nellumandi Baliah School with a writing slate in hand.
'Here is a daughter of a Thevaradiyar (a corruption of the word 'devdasi, used in the Melakkara community for women dedicated to God in a ritual marriage but were partners to the male members with no strings attached) going to school, they would shout. To avoid the boys, she chose to walk through smaller lanes and by-lanes.
'Any art or culture worth preserving will certainly hold its own against all times and against all conditions. Our attempt should be to free it from its ugly associations and the incrustations of ages which now keeps it dim and repulsive to many so that the divine art may be learned by all … then only India's art, the rich legacy of ages, will shine brighter and will command respect and admiration of the world.' [Endnote 1.: Muthulakshmi Reddy, "Anti Nautch Movement", Madras Mail, 17 December 1932]
Muthulakshmi was concerned that the word 'Devadasi' was considered as an abusive term in Tamil. She wanted to release women born to Devadasis from the curse, and give them a future free of such an association. If dance and music were so integral to the system that so oppressed a woman, they must be halted too, so that new art could emerge.
Book search (India)
List of sites covered by this Google custom search engine
Enter a book title, author's name or any subject of special interest in the above search field.
Note: if the Google Custom Search window isn't displayed on this page (on a tablet device and smartphone or any PC)
– "Enable JavaScript" in the "Security" settings of your internet browser
– Toggle to regular web view if you happen to use the "Reader" view