Download the epub-version for offline reading, printing or getting read out on the Archive.org website >>
Description
The Small Theatre (Tamil Sittrarangam) is a chamber auditorium specially designed for Indian performing arts. Based on rural architecture, it provides a congenial atmosphere for traditional performers of dance, music and folk arts, and their audience alike.
Introductory note jointly published by INTACH (The Indian National Trust for Art and Cultural Heritage) and the Government of Tamil Nadu
Beautifully and very imaginatively conceived. India needs theatres of this kind in every village.
Goverdhan Panchal, Emeritus Instructor of Scene Design at the National School of Drama and author of books and articles on traditional Indian theatre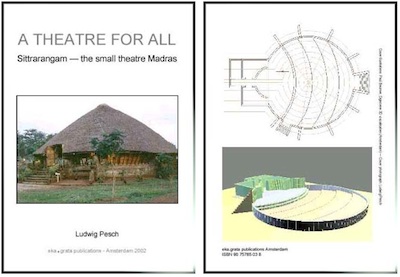 Free ebook version for online browsing and downloading >>
A THEATRE FOR ALL
Sittrarangam – the small theatre Madras
by Ludwig Pesch
with a Foreword by Himanshu Burte
ISBN 90 75785 03 8
2nd revised edition
89 pages
3 colour plates (cover photograph, 2 digital graphic representations for the floor plan of the theatre on the back cover)
15 b/w plates
Size: 25,7 cm x 19 cm
Weight: 248 g
Price: 36 EUR

Contents
1 Introduction
2 A small theatre for Chennai
3 A theatre for all
4 Historical and social aspects of Indian performing arts
5 Access to the living arts
6 Sittrarangam and traditional Indian theatre architecture
7 Sittrarangam: model for a facility serving cultural tourism
8 About the plates and their context
Plate 1 Open-air stage ('Tiger Cave') near Mamallapuram
Plate 2 Kuttambalam stage (Irinjalakuda / Kerala)
Plate 3 Interior of Sittrarangam (Island Grounds / Chennai)
Plates 4, 5 and 6 Sittrarangam: phases of construction
Plate 7 A South Indian vocal recital by Mani Krishnaswamy
Plate 8 A leather shadow play by S. Seethalakshmi
Plates 9 and 10 Dance performances by Archita and Satyajit
Plate 11 Living theatre: Terukkuttu and Kattaikkuttu
Plates 12, 13, 14 and 15 The Sittrarangam experience
Appendix 1 A theatre according to the Natya Shastra in the IIT Madras
Appendix 2 Postscript to the IIT project description
Appendix 3 In search of an Indian theatre by Ludwig Pesch
Appendix 4 A Chamber Theatre for the Performing Arts
Appendix 5 Personal comments (Visitors' Book 1987, 1988)
Acknowledgements
About the author
Bibliography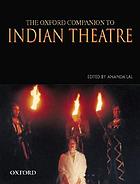 Sittrarangam is discussed in the chapter on Indian theatre architecture together with Kalakshetra and Kerala Kalamandalam in:
The Oxford Companion to Indian Theatre edited by Ananda Lal (New Delhi: Oxford University Press, 2004), pp. 18-19
http://www.worldcat.org/oclc/470139309
Project website with photographs
https://natyasala.mimemo.net/Natyasala/Small_theatre.html