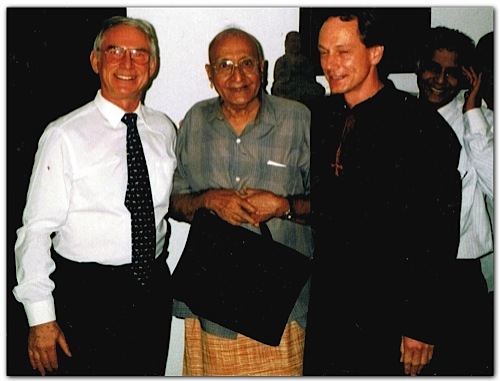 Consulate General of the Federal Republic of Germany
22, Ethiraj Road, Chennai 600008, India – Press Release 24.01.2000 –
Ludwig Pesch, Kalakshetra Alumnus and Expert on Carnatic Music, Receives Cross of the Order of Merit of the Federal Republic of Germany
On 22nd January 2000, Mr. Ludwig Pesch received the Cross of the Order of Merit of the Federal Republic of Germany which was presented to him by Consul General Klaus Schroeder of the Federal Republic of Germany in Chennai at his residence. The Order was bestowed on him for his outstanding contribution to Indo-German cultural relations.
Mr. Ludwig Pesch Pesch is a German who – after his music studies in Germany – studied at the Kalakshetra College of Fine Arts in Chennai. He spent 15 years in South India studying Carnatic music, specializing in playing the bamboo flute (pullankulal), as a student of the late H. Ramachandra Shastry (1906 – 1992), the renowned flutist with whom he participated in many performances.
Mr. Pesch has become a practicing interpreter and outstanding exponent of South Indian music. He has performed and lectured extensively in India, South Asia, Europe, and the USA. He is also one of the founders of the society Sampradaya in Chennai, which is dedicated to the cultivation of Indian classical music. As an intellectual supporter of South Indian classical culture, he has cooperated in various cultural projects with – among others – the Government of Tamil Nadu, the Indian National Trust for Arts and Cultural Heritage (INTACH), and Max Mueller Bhavan (the German cultural institute). He has become well known and respected in the (South-) Indian cultural scene.
He has written several study manuals and guides, his latest being 'The Illustrated Companion to South Indian Classical Music' which was published in 1999 at Oxford University Press, the most inclusive authoritative reference work available for South Indian music, which received excellent reviews in the Indian press (i.e. The Hindu, 07.02.1999).
Today Mr. Pesch resides in Amsterdam but still spends several months each year in South India carrying out research and performing.