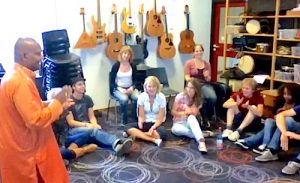 Melodious music and captivating rhythms in which to immerse ourselves joyfully and spontaneously; with self-confidence yet always together!
For whom are the courses and workshops meant?
performers and students (musicians, actors and dancers)
urban youths (outreach and rehabilitation programmes)
members of cultural and educational institutions
learners with special needs
corporate events (cultural integration)
museum exhibition visitors (including parents with their children)
AIUME workshops are generally combined with performances involving participants (optionally for other invitees). To achieve aiume's objectives, we research, publish and create music that can be taught wherever people live, learn and work. This is mostly done in the context of interdisciplinary education for all age groups.